Information for visitors
Conference fee in 2016
the RIPE WORKSHOP is FREE of charge, but has limited capacity for only 40 people
CEE Peering Days Budapest 2016 conference is FREE of charge for 2
visitors from host members or companies that are affiliated to one of
the hosts, other visitors, or more than two guests from the same company, incur a conference FEE 500 EUR
the organizers approve all registrations and have the right to refuse or
cancel a registration without giving reasons
Arrival
on 30th March we will start at 9:00, on 31st March 2016 at 10:00
bilateral meetings will take place on both days - on Wednesday from 12:30 to 18:00, on Thursday from 14:00 to 18:00 
the Social Evening will start at 19:00 in the centre of Budapest - exact location to be announced
Conference Location
In the heart of the city, on the Pest side of the river Danube, the contemporary Hilton Budapest City hotel offers a peaceful retreat from the hustle and bustle of Pest's cosmopolitan centre. Enjoy a short walk toward the Champs-Élysées of Budapest and the UNESCO listed Andrássy Avenue, with luxury boutiques and major Budapest attractions, including Parliament, Heroes' Square and St. Stephen's Basilica. International shops and entertainment facilities await you in the WestEnd Shopping Centre from which you have direct access to the hotel lobby.
Modern guest rooms are decorated in cool, calm tones and all public areas offer complimentary WiFi. Relax on your Hilton Serenity Bed or get to work at the large desk with ergonomic chair in your room. All rooms feature a spacious bathroom with a separate walk-in shower and bathtub, and a large flat-screen TV to ensure a luxurious experience.
Social Evening Location
Spiler Shanghai - Király utca 13, Budapest
transfer: walking or by subway on your own or with our guide
meeting point: in the RECEPTION of hotel HILTON BUDAPEST CITY
meeting time: 18:30 and 19:00
map: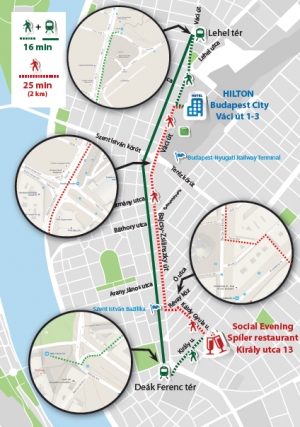 Capacity
RIPE WORKSHOP 
maximum capacity per workshop is 40 participants registered via the registration form  
CEE Peering Days Budapest 2016 
maximum capacity of the conference 250 participants for each day registered via the registration form
Registration
Bilateral meetings in the Rendezvous Point tool
plan your meetings with our new Rendezvous Point tool, to set up meetings log in here
Rendezvous Point is operated by NIX.CZ
you can find your login and password in the second confirmation e-mail of your registration or contact production on berkovcovav@pemcom.cz
Accommodation
we recommend HILTON BUDAPEST CITY
Váci út 1-3, 1062 Budapest, Hungary
just next to the venue
single room EUR 99.00 per night inclusive of famous Hilton Breakfast, internet for basic use (exclusive of 18% VAT and 4% City Tax)
double/twin room EUR 114.00 per night inclusive of famous Hilton Breakfast, internet for basic use (exclusive of 18% VAT and 4% City Tax)
the accommodation reserved for our attendees is over now
Transport
From Budapest Liszt Ferenc International Airport
Terminal 2
Hotel taxi pick-up is available on request - the journey takes approximately 30 minutes

By Bus - f

rom Terminal 2, take Bus 200 to the end-station, Kobanya–Kispest. Then take the underground M3 to Nyugati Palyaudvar. Alternatively, take Bus Nr 200 to Liszt Ferenc Airport Terminal 1, walk over the bridge to the train station and catch any train going to Budapest Nyugati Palyaudvar. The hotel is adjacent to the WestEnd shopping centre

By car - from Terminal 2

 join Ferihegyi Repuloterre vezeto ut, following signs for Budapest Centrum (Centre). Continue for 15km until you reach the city centre (Kalvin Square). Turn right, go past Muzeum Korut and continue straight ahead for less than 1km until you reach Deak Square. From here continue along the main Bajcsy Zsilinszky road for about 2km, go over the bridge and onto the Vaci ut (Hilton Budapest City hotel is then on your right, by the WestEnd City Centre shopping centre. The journey normally takes around 30 minutes from airport to hotel
From Budapest's train station
Hotel taxi pick-up is available on request from Budapest train stations. The journey takes approximately 20 minutes from either Keleti or Déli railway station, to the hotel
Metro - from Keleti railway station take Metro line Nr. 2 (red) to Blaha Luzja sq. (one stop) then switch to tramway Nr. 4 or 6 in the direction of Moszkva sq. After five stops alight at Nyugati railway station. The hotel is 200 metres from the station. 
From Deli railway station take metro line Nr. 2 to Deak Ferenc Square then switch to Metro line 3 (blue). After 2 stops alight at Nyugati railway station.The hotel is a 2 minute walk from the station.
Note: Estimated charges, fees and schedules are not guaranteed by the conference organisers. Driving distance may be affected by local conditions and traffic.
Parking
hotel garage (for maximum 30-40cars)/day: HUF 400/hour or HUF 4,000/day (EUR 15)
WestEnd parking garage: HUF 350/hour
Produced by
PEM Communication s.r.o.

Luzna 716/2, 160 00 Praha 6 
Czech Republic
ID: 28431626, VAT ID: CZ28431626

The company is registered in the Commercial Register of the Municipal Court in Prague, Section C, Insert 141 017
Bank account: Raiffeisenbank 3768529001/5500
Contacts
 

   Veronika Berkovcova, Event Manager

   (registration, event production)

   E-mail: berkovcovav@pemcom.cz

   Phone: +420 773 737 766